GOAL!
Saturday March 14 2020
I meant to post this in January but time has gotten away from me. As I shared then, we had started on the ketogenic lifestyle in Sep 2019. This has been just a wonderful journey of eating healthy and feeling so much better for both of us. Of course, I had to get a spring cold the first of this month and it is just hanging on. No need to worry about COVID-19 for me!
Anyway, I wanted to share the fact that I hit my "first goal" of 145 pounds on Super-Bowl Sunday. So it was a great day for me
and
for the Kansas City Chiefs! My heaviest weight was 205 pounds in 2011. As you can see from the photo, I was still my happy self but I wasn't really feeling all that well. The extra weight took a toll on my knees and going up and down steps was just a disaster. I wasn't sleeping well, had migraines, and not much energy.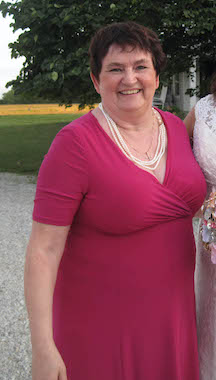 I started trying to lose - a little bit of Atkins, attending weight watchers meetings, tracking my food, etc. I lost 32 pounds from my start in Spring of 2011 until Sep of 2019. I kept telling myself - doing it slow is best - but, seriously? You can't lose weight drinking McDonald's sweet tea everyday!
The first two weeks on keto I lost 6 pounds! Then it was a steady decline until I hit my "second goal" of 140.5 on March 3rd. This is the first time I have been at this weight in about 20 years - it is what I weighed on our wedding day! Don says I have to "stop now" as neither of us want me to be too thin. So now I stay on the plan with the occasional day where I have a sandwich or something else with the higher carb content. It is so easy to go just back to the plan - mostly I have one meal a day - and I don't feel anything but healthier.
I had to get rid of most of my clothes - Don was kidding me that I was wearing "hobo pants" because they were just too big and hanging off me. I broke down and bought some nice jeans at Kohls (size 12!) but, a few weeks later, they were also too big! So I went to Savers (Thrift Store) and bought some nice size 10's. And now they are a bit baggy as well.
This photo is on my birthday in Feb and you can really see the difference. I can only say that this is the best gift I have ever given myself. I will be a ketogenic for the rest of my life b
ecause I just don't ever want to go back. AND I couldn't have done it without the support of that great hubby of mine.