A Cold, COLD February!
Thursday February 25 2021
February is almost over and the cold will hopefully go with it! As people asked me what I had planned for my birthday, I had the following to say:
1. It will be snowing or too cold to go anywhere
2. What can we do with COVID still hanging around?
As it turns out, it was COLD! -3 degrees on the 14th with a windchill of close to -20. It had also been snowing for the past week so the roads were a bit iffy as it started snowing again on Sunday. Monday the 15th closed everything down again. So bad that they didn't pick up the trash for 2 weeks!
Today it is in the high 40's after being almost 70 on Tuesday. Crazy!
My physiotherapy has been coming along - of course, I pulled my hamstring tendon to add to things. I didn't even know I had a hamstring tendon! And I had my 3rd stem cell booster last week. Progress is slow since we have worked out all the big problems and are now down to those weak muscles we don't know about - hence the hamstring tendon problem.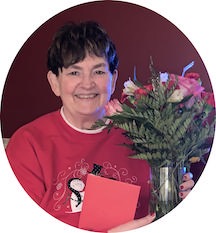 Don & I stayed home for my birthday after eating out on the previous Friday at the Longhorn.
Good plan based on the cold. I braved the weather and drove to Lion's Choice for dinner that night - carry out of course - flowers from my hubby rounded out the day. An uneventful way to celebrate that's for sure.
I've been working on a lot of genealogy research for new members for the NSDAR. It is time consuming and keeps me busy but I need to branch out and do some other stuff. Hope to get back to watercolors, piano and scrapbooking in the next week.
But the genealogy is so much fun! And I was able to prove our first patriot on the Curtis side, William Van Horn. I hope to have his bio up soon on the patriots page. I have been adding lots of documents to my genealogy so I can soon write the next chapter for the Brooks, Curtis & Alexander families.