Dr. Robert Curry - Patriot Bio
Thursday February 06 2020
Dr. Robert Curry (A028779) was born in Londonderry, Ulster Province, Ireland on 10 Nov 1717. Of Scottish descent and a Presbyterian, he was educated first in Londonderry and then in Belfast where he studied medicine. He was an accomplished athlete and swordsman. One of his pastimes was teaching fencing.
In 1740 he married Ann Currie who was probably a member of a related family - her father was an officer serving in King William's army. The couple and at least three of his brothers emigrated to America soon after, landing in the port of Philadelphia. They purchased land and settled in Lancaster County, PA.
Robert and his brother William moved to Augusta County, VA around 1748 where he purchased a farm and practiced medicine until his death. He had nine children. The farm was located in Augusta County, Virginia. Records read that it was "six miles northwest of Augusta Stone Presbyterian Church and five miles west of Mt. Sidney in the 'hills of Judea' on the waters of Naked Creek." This farm, known as Glenn-Curry, was owned by his descendants until 1946.
Robert Curry served as Ensign of Militia in 1763, Captain of Militia in 1774, and Major of Militia by 1776. As a Captain in the French and Indian War, he lead the first company against the French in the Ohio Valley, not long after Braddock's defeat. He received a land grant in Ohio for his service but did not move to that area. Records indicate one of his sons moved and took advantage of the grant.
Dr. Robert served as a Captain of the Home Guard in the Revolutionary War. In March of 1783 he was appointed a road overseer from Skidmore's Camp to the North River of Virginia. He is also listed with his sons, James and Robert, in Captain Givens and Campbell's Companies in 1783,
In the Augusta County, Virginia records he is listed as the witness for many legal proceedings and was issued a patent for land in that area. He was an elder in the Old Stone Church in Augusta as well as one of the charter members. He died on 5 Jan 1804 near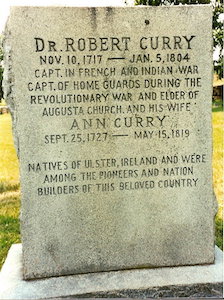 Stanton, Virginia, probably at home. Buried in the Augusta Stone Presbyterian Church Cemetery in Fort Defiance, his tombstone reads:
"Dr. Robert Curry Nov 10 1717 - Jan 5 18804 CAPT. in French and Indian War CAPT. of Home Guards During the Revolutionary War and Elder of Augusta Church and his wife Ann Curry Sept 25, 1727 - May 15, 1819 Natives of Ulster, Ireland and were Among the Pioneers and Nation Builders of this beloved country"
In his will, dated 29 Dec 1803 and probated on 24 Dec 1804, he names his wife, Ann, and his children, Samuel (1770-1845), Margaret (Issac) Nickel (1752 - a1839), Mary (Benjamin) Erwin (1746-1788), Ann (William) Glenn (c1770-?), William (1740-1804), James (1762-1832), Robert (1760-1819), Alexander (unknown) and Isaiah (died 1845).
My family line starting with my Grandmother (Generation 3)
:
Gen 3: Hazel Julia Brooks Betler Houchin
Gen 4: Richard Thomas Brooks & Landona Belle Curry
Gen 5: John McAvoy Curry & Sabina Conrad
Gen 6: James Curry & Sarah C. McAvoy
Gen 7: John C. Curry & Mary "Polly" Curry (first cousins)
Gen 8: Robert A. Curry & Sarah Jane Young
Gen 9: Dr. Robert A. Curry & Ann Currie