Jacob Conrad - Patriot Bio
Sunday September 27 2020
Our Conrad history in America begins with Jacob Conrad Sr. He was born in Canton Bern, Switzerland on 19 Apr 1705. He married Frena Svena Lauk in 1740. Frena was born about 1715 in Attiswill, Bern, Switzerland and died on 19 Apr 1749 in Switzerland. The couple had the following children: Mary (1731-1811), Barbara (1742-1802), Jacob (1744-1829), Ulrich (1745-1813), Elizabeth (1746-1810), Mary (1748-1811) and Benjamin (1748-1853). (Interesting note: my Curtis line descends from Elizabeth!)
Jac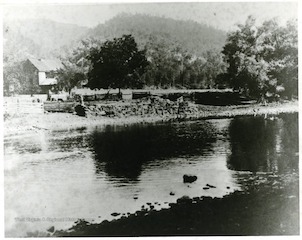 ob Sr.cbrought his children and one brother (Ulrich) to America. As part of the German Palatine Migration, he came into the port of Philadelphia aboard the ship
Patience
from Rotterdam to Cowes England and then to Philadelphia, landing on 11 Aug 1750. The brothers came to Pendleton County and settled on the South Branch of the Potomac River where Jacob selected a tract of land on which there was a "squaw patch" - a small cleaning made by the Indians. The home (shown in the photo) was built out of limestone and was torn down in the 1890's.
Jacob Sr was a miller, blacksmith, weaver and farmer. He died on 1 Dec 1775 and is buried in the Old Conrad Cemetery in Ruddle, Pendleton County.
Our patriot is his son, Jacob Jr. who was born on 11 May 1744 at Canton Bern Switzerland. He married first Hannah Bogart/Bogard on 3 Jun 1766. Hannah, who was baptized on 6 Jan 1745, was the daughter of John Bogard. The Augusta County, Virginia Court Order Box 10 shows a motion of Jacob Conrad and his wife, Hannah, regarding administration of the estate of John Bogard on 26 Aug 1766. Jacob Jr's second wife was Barbara Propst (1748-1829) whom he married on 20 Dec 1808. Jacob Jr. received the aforementioned home and land in his father's (Jacob Sr) will which states "To son, Jacob: The dwelling placed according as we have measured it between him and his sister." He also was bequeathed his father's "smyth tools," bed and Bible.
NSDAR indicates that Jacob Jr's service was public in nature - documentation has proven that he furnished supplies to troops during the revolution. A pension exists for a Jacob Conrad of Rockingham County, Virginia, but this man should not be confused with our Jacob as his death is recorded as being in 1844. Our Jacob has no records in Rockingham County, Virginia.
Jacob Jr was appointed a trustee of Pendleton County on 10 Jan 1814. The Virginia General Assembly decreed "The freeholders of the said town shall meet and elect five fit and able men, being freeholders and inhabitants o the said town, to be trustees thereof."
(History of WV, Lewis
, 1887). He served as foreman on the first Grand Jury in Pendleton County in 1787 and went on to serve in the Virginia General Assembly in 1792 and 1793. He also served as sheriff for Pendleton County in 1804.
In 1851 one of the largest land owners in the area was Jacob Conrad with 6,064 acres on the watershed of the Elk River, Back Fork and Sugar Creek. His deeds and land transactions can be found in the
Pendleton County Virginia Deed Book Records
. His very detailed will names his surviving eleven children and includes names of sons-in-law and also mentions the "Propst sons of my late wife." Some of the daughters were deceased at the time but they
are
named.
Jacob and Hannah are buried in the Old Conrad Cemetery #21 in Pendleton County.
Author's Note: The suffixes of Sr and Jr are only used to help distinguish the two Jacobs in this narrative. These suffixes were not used to denote father and son in early records.


My family line starting with my Grandmother (Generation 3)
:
Gen 3: Hazel Julia Brooks Betler Houchin
Gen 4: Richard Thomas Brooks & Landona Belle Curry
Gen 5: John McAvoy Curry & Sabina Conrad
Gen 6: Jacob Peter Conrad & Elizabeth M. Alkire
Gen 7: John Conrad & Elizabeth Currence
Gen 8: Jacob Conrad & Hannah Bogard