Curry Madness
Tuesday August 12 2014
You
'll notice the title of this post regards the Curry line. Madness it is, since there are at least 3 lines of Curry families that intertwine through the years in Virginia. I had some help from a family publication "From Whence We Came" that was published in 1992 by David Cunningham Curry & Susan Jane Curry. They did a lot of work on the family history and gave me a lot of names, dates and places. But things are still a bit confused as they are from a different branch on the tree!
Here's where we start - John McAvoy Curry (23 Oct 1847 - 8 Dec 1913) married Sabina Conrad (11 Oct 1850 - 23 Oct 1943) on 8 Mar 1877 in Upshur County West Virginia. The Conrad's were a confederate family from Braxton County, West Virginia (more on them in a later post). John McAvoy Curry served in th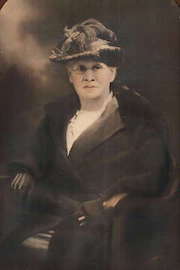 e West Virginia legislature in the 1900's. The portrait above is of John McAvoy Curry that is included in the WV Legislature Archives book. Sabina's portrait is from about 26 June 1924. The couple had 8 children: Gertrude Margaret, Escar Floyd, James Lloyd, Landona Belle, William Boone, Charles Edward, John Darius & Martha Blanch. Landona Belle married Richard T. Brooks (a Yankee) and she was my great-grandmother. I'm doing pretty well with tracing a lot of these children's families although there is some intermarriage there with the Rexroad family. This makes many of us "double cousins."
John McAvoy was the son of James H. Curry (1820 - 1899) and Sarah M. McAvoy (1825-1883). James & Sarah were married on 23 Mar 1843 in Lewis County or Barbour County, Virginia (this was before the Civil War & WV Statehood). They had ten children: Martha, Minerva, John McAvoy, Benjamin Dawson, Charles, Louis Jane, Mary Elizabeth, Albert Mifflin, Emma C. and James Addison.
James H. Curry was the son of John C. Curry (1797-1845) and Mary "Polly" Curry (1801-1882). They were married on 28 Jun 1819 in Pendlton County, Virginina. It appears they had 11 children but I haven't been able to source them. Their names are James, Robert Edward, Louisa, John Hendron, Sarah Ann, Nancy E., Edward Erwin, Benjamin Ison, Lidea Margaret, Elizabeth Jane, & Mary Susan.
By the looks of things, you would think I was in good shape with the family, right? Wrong! Here's where things go crazy!
First of all, Mary had a sister Sarah "Sally" Curry (1804-1892) who married James Curry (1794 - 1855). What? Another James? Ok, let's go back to that in a minute. Sally's son,
Hamilton G. Curry (1840 - 1931) married Cozbi Brooks (1844 - 1915). Now, you may notice there are some Brooks photos on my site - Cozbi was my Great-Great-Aunt and sister to my Great-Great-Grandfather, Luke P. Brooks. Luke's son, Richard Thomas Brooks married Landona Belle Curry (see above). So now Hamilton Curry's line and John McAvoy Curry's lines are a bit tangled up as we go forward. Anna was married twice (Nickel & McDowell); Virginia "Jane" married Robert Young in 1819. Robert was probably part of the Young Clan and related to Jane's mother - need to check into this further.
Secondly, Sarah "Sally" and Mary "Polly's" parents were Robert Curry (1760-1820) and Sarah Jane "Scottie" Young (1765-1820). Robert & Scottie were married 22 Apr 1791 in Augusta County, Virginia.
Let's follow Robert's line (Sarah & Mary's father):
Robert's parents: Robert Curry (1717-1804) & Ann Currie (1727-1819) married in 1751 in Augusta County, Virginia. Robert was born in Londonderry IRE and Ann was born in Ulster, IRE. I have a copy of Robert's will dated 29 Dec 1803 where he states "…leave and bequeath unto my beloved wife, Ann my dwelling house…" He also mentions his son Samuel, daughters Margaret Nickel and Mary Erwin and Ann Glen and sons WIlliam, James, Robert, Alexander and Isah (spelling?). And…I think Mary Erwin may be my 5th great-grandmother…!
Robert's Grandparents: William Curry (1690 -1748) and…Sarah "Scottie" Young (!) (1695-1748) married in 1717 in Antrim, IRE. I haven't found anything on Ann Currie's family as of this date.
Robert's Great-Grandparetns: John Currie (1675-1775) and Ann Curry (1727-1819). So…was John 15 when William was born? And how can this be William's mother if she was born after he was?!
Let's follow John C. Curry's Line (Mary's Husband)
John's Parents: James Curry (1762-1809) and Mary Erwin (1760-1842) were married on 27 Mar 1786 in Augusta County, Virginia. I think they had 10 children: Mary, Robert, Jane, James, John C., Elizabeth, William, Benjamin and Frances. If you want to know more about Irish naming conventions, just google it. You'll find out that they just LOVED to name everyone after everyone else! This Mary Erwin has a father named ???
John's Grandparents: James Curry (bef 1748-?) and Mary Miller. Both were born in Ireland (probably) and both were married there.
John's Great-Grandparents: John Curry (1675 - 1775) and Anna - born and married in Ireland. And maybe this was John Currie…and they also may have had two other sons: William and Robert.
Let's look at James Line (Sarah's Husband): Are you lost yet? Well, that's good because I don't have much info on James' line. I have his dates: Born on 2 Jul 1794 in Highland County, Virginia and died on 9 Sept 1855 in Frenchton, Upshur County, Virginia. I have a death record that shows his parents as James & Mary Curry (seriously?!) so he may be a son of James & Mary Erwin Curry (see above). That would make him a brother of John C. Curry (Mary's husband). This would make sense since sisters often married brothers.
So, that's where I am today. If anyone out there has any insight or information, please feel free to e-mail me. I'll update the page with new information as I get it!